July 3, 2019 5:00PM
-
July 3, 2019 8:30PM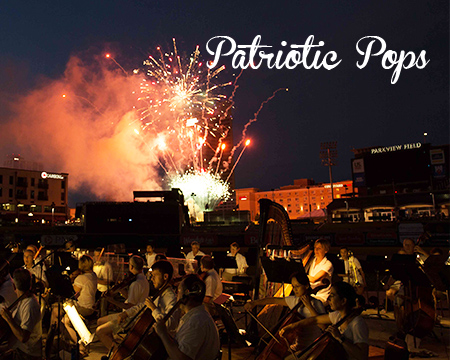 Patriotic Pops at Parkview Field
Event details
Date
July 3, 2019 8:30PM
Title
Patriotic Pops at Parkview Field
Description
Club Stadium Seats – Reserve the best seats in the house by purchasing Club Seats that overlook the orchestra. Cost: $30/Adult, $15/child 12-under
Toyota Field Boxes – Located along the third-base line, these private boxes include four chairs seated at a high-top table along the third base line. Cost: $50/box - Seats 4
The Armed Forces Salute – FREE FOR THOSE WHO PURCHASE SEATING OPTIONS
Join us in recognizing your military heroes on a unique video presentation on the scoreboard prior to the performance.
Tickets must be purchased in advance. Food and beverage is addional cost.